Meet Dr. Paul Patterson
A Third-Generation Chiropractor
Dr. Patterson was born into a family legacy: his dad and great-uncle were chiropractors before him. While growing up in Arkansas, he always knew that he wanted to help people, but just wasn't sure how he was going to fulfill that destiny.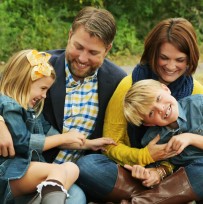 While still a business undergrad at the University of Arkansas, he realized that he was the happiest when he was being of service to others. This led him to spend a lot of time with his dad in his chiropractic clinic, observing his interactions with patients and witnessing the health transformation that occurred for so many.
"My family was always healthy, and I took that for granted; it was our reality," remembers Dr. Patterson. "It was when I got out of that bubble that I realized that there's a lot of pain and suffering in the world."
That's been his driving force ever since: to demonstrate to people that there are alternative ways of regaining wellness and that no one ever has to settle for being unhealthy.
The Long and Winding Road to Tennessee
Following his graduation from the University of Arkansas, Dr. Patterson was granted admission to Parker College of Chiropractic in Dallas, Texas.
A few months before graduation, he and his wife, Anne, were already imagining the perfect place to start a practice. Their road explorations took them from Texas to Colorado, and as far away as the East Coast. A friend finally suggested that they look into Middle Tennessee as the perfect place to live. They fell in love with Spring Hill as soon as they saw it.
Patterson Chiropractic Center has been thriving since 2004, catering to families of every kind!
Life Outside the Office
Dr. Patterson has been married to his best friend, Anne, since 2002, and they've welcomed two wonderful children into their family: their son Carter and their daughter Eva Belle. The family loves to travel, and they particularly enjoy going to the Gulf Coast beaches in Northwest Florida, visiting several times a year. Staying active is a big part of their lifestyle, so they spend a lot of time hiking and biking, as well as just hanging out as a family at home.
Dr. Patterson is a member of the Rotary Club, and initiates food drives for The Well, a local food pantry. He's also involved in securing donations for the Hope House in Spring Hill, a shelter for victims of domestic violence, as well as being an active member of his church.
Dr. Patterson feels blessed to help his patients achieve their goals through chiropractic. Call (931) 489-5989 today to schedule an appointment!